(Why we) Make Good Art (and why we price it the way we do!)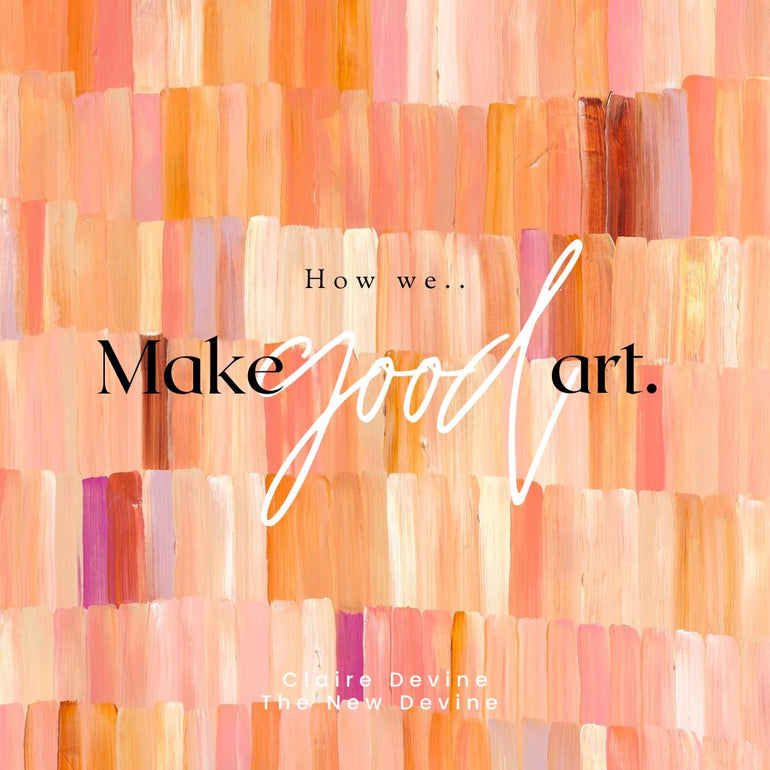 Art is a luxury product. Whether it's an original artwork or a fine art print. Let's be honest - you don't need art. It isn't essential for basic survival but does it improve our home and wellbeing? For many - it is a resounding yes. Life without art would be dull for sure - literally and figuratively.

Original Artworks...
What really goes into the pricing of art? 3 years ago a big original for me would have sold for $800 and now they sell for $3k+. You might say that's incredible inflation but the demand for my art has increased substantially and so has my skill in creating it. When you buy art or a music CD or tickets to a theatre performance - you aren't just paying for the time it took to create that one piece - you're paying for the years of practice and trial and error and ideas and imagination that happened before that allowed that thing to come into being. I once had a lady who was looking at one of my pieces and her friend said, "Oh! That's far too much money - you could do that yourself!" The lady laughed at her friend and said, "I most certainly could not! If it's so easy, you paint one just like that for me!" I heard similar things when I was a teacher. In an interview with a parent once he said to me, "Being a teacher must be so great with all the holidays." I agreed politely, (suppressing an eyeroll) and invited him to join the profession. He laughed and said he could never ever get up in front of a room of teenage boys for an hour and teach them. I think maybe we're all much better experts at things we don't do until we try them for ourselves - sort of like how everyone is a perfect parent until they actually have kids. Art is a luxury good. It comes with significant skill and investment and it takes hours and expensive materials to create (on top of the skill to be able to bring all of that together into something visually appealing.) It therefore comes with a commensurate price tag.
As artists, we often start out just charging for our costs and not for our ability or time - making the pieces much cheaper than when we become more established. That's how the 'starving artist' stereotype came about - in the hopes of making a sale, artists starting out don't actually charge for their...art. It's a cycle that perpetuates poverty and ultimately the death of new art being created as those who CAN do the creating, often CAN NOT manage the 'business of art' in a way that sustainably provides for their family.

Artists often ask me how to price their artworks and the answer is - I don't know. I only know how to price mine - in a way I can feel comfortable (ie asking what I feel it is genuinely worth) whilst also paying myself a wage from it. Our whole family depends on my art to support them after all. There's no back up.  Selling a painting for $3k might seem like a lot but by the time you factor the cost of materials and the hours spent working on it, marketing it, photographing it, putting it on the website, varnishing, packing, shipping.....it isn't necessarily a great hourly rate. For me at least, it isn't as though I sell a $3k artwork every day of the week, anyway! Maybe one day.

Fine Art Prints
Prints are the same in terms of luxury. I could have chosen to make cheap prints. Some artists sell A3 prints for $45. Mine are sold for much more. That's a big difference. The big difference is in the quality of the materials and the process used to capture the print in the first place. When deciding how we wanted to make prints, we started with how we wanted you to feel opening them for the first time...and every time. We wanted you to smile and squeal and think, 'gosh this is so much better than the website could have shown!' That kind of lasting delight is what we aim for - the kind of joy that makes guests to your home think 'wow - is that an original? Look at the texture!' We believe there's always 'the right art at the right time' and don't want you to just buy tonnes of prints to replace every 5 seconds. We want to provide you with art that lasts precisely because we want to create it in a way that lasts and guide you towards choosing pieces that you form a lasting love for. This is the slow fashion of the art world, as far as we're concerned.
I wish I could show you some of the art prints we've bought over the years and been disappointed by. Art that we can't put on the wall because the colours aren't vibrant, the details are a little grainy or the paper is visibly thin. What's more expensive than excellent quality fine art prints? Owning art prints that are too poor in quality to hang on the wall. You have the expense of the cost of purchase and shipping, the expense of space taken up in your home because you can't throw it away even though you can't hang it because you paid money for it, the expense of the buyer's remorse and disappointment because the quality and the artist let you down, the expense of the lost dream of using the art to light up your home. At the end of the day - if you don't mind cheap, changeable art with a short lifespan and you're going to replace it next year anyway? Then that's fine - no worries...but we don't have any of that kind of art here at The New Devine and if you want to know what I think? I think you're following me precisely because you aren't that sort of person at all. You're someone committed to sustainable living (where you can) and you want to fall in love with a piece and be intoxicated all over again every time you see it. That's why we're a perfect match. It's my art and your home - so it has to be perfect - no corners cut and no compromises on quality.