Captivating Contemporary Australian Easter Art - The Ideal Alternative to Chocolate (Or just in addition to!)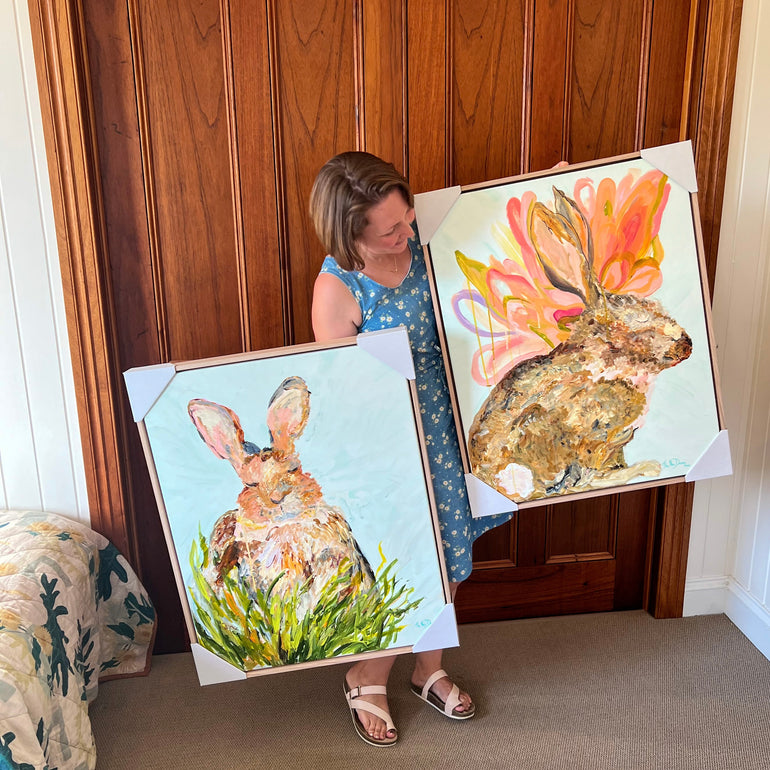 Below: Gareth (76x61cm $1500) Good Wine Country (76x76cm $2000)


Above: Anna's Happy Bunch (76x61cm $1600)
Easter is my favourite time of year - the cooler mornings make the world seem more full of possibilities and the kookaburras in our little seaside village start cackling at 3am and even though it is noisy enough to wake me I can't help but smile at their enthusiasm for the seasonal change - they must feel the renewed optimism of autumn, too. There's the excitement (eggscitement?) of Easter and holidays to look forward to, Easter egg hunts, hot cross buns, the calm reverence the church bells ring out, calling us to feel a little more grateful, a little more awed and inspired in this season.
These Easter artworks are the perfect Easter gift alternative to chocolate (or just in addition to!) to bring a touch of that Easter wonder and excitement to your home all year. 
Here's a rundown on the collection...
Prints - Need to Know:
1. Three new prints - each of them limited edition of 50 only. These will come hand-signed with a certificate of authenticity. Clancy the Koala, From Now on (the field of poppies) and The Joy Hunt (our precious bunny hiding in the flowers.)
2. We aren't making 20cm prints of The Joy Hunt as there is too much beautiful detail that would be lost in such a small size.
3. From Now On, our beautiful poppy print, will be our newest fundraising print, this time for Legacy - just in time for Anzac Day.
Originals: These are all available now on Bluethumb. Click here to shop original artworks ahead of the release.
Waiting for tomorrow? Here they are! Ranging from $1500 to $2550. Each piece is already custom float framed in gorgeous Aussie oak and (express) postage Australia-wide is complimentary as always.
Above: George (76x61cm $1500) Joy and Other Simple Gifts (76x61cm $1200) Clancy the Koala (76x61cm $2000)
Above: George (76x61cm $1500) The Joy Hunt (76x76cm $2000) Clancy (76x61cm $2000)
Below: From Now On (76x101cm $2550)